Winner of the 2008, 2011, and 2012 PSA Henricks Award for best newsletter!
---
Key Events
Sept 4 – Labor Day field trip to Maryland Renaissance Festival (10:00 a.m.)
Sept 7 – Speaker night (7:30 p.m.)
Sept 14 – Competition night: Open Topic (7:30 p.m.)
Sept 21 – Rosh Hashana – No Meeting
Sept 23 – Field Trip to Huntley Meadows Park (10:00 a.m.)
Sept 28 – A Closer Focus meeting (formerly known as Seminar Night) (7:30 p.m.)
Oct 02 – Board Meeting (Monday, 7:00 p.m., Fellowship Hall)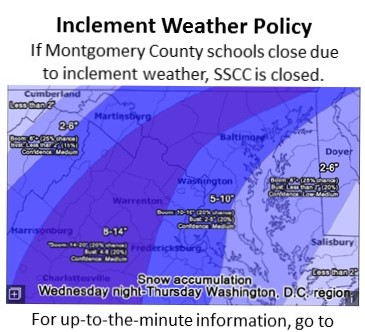 http://www.montgomeryschoolsmd.org/
---
"Your first 10,000 photographs are your worst"
— Henri Cartier-Bresson
---
WELCOME BACK FROM OUR NEW PRESIDENT
I hope everyone enjoyed their summer and is ready to participate in our 2017 – 2018 season. The board and chair positions have been working hard this summer to ensure we have a well-planned and full agenda. (read more)
---
OUR 2017-2018 PROGRAMS
As the dog days of summer draw to a close, our thoughts move toward cooler times and, at last, the reconvening of camera club. Our Thursday nights will soon be filled with provocative speakers, competitions of our best shots ever, and thought-provoking seminar nights. Let's not forget the field trips that take us to challenging destinations. Is this not a photographer's dream?
It all begins on September 7, opening night of our 2017-18 season. As in the past, we will have speakers the first Thursday night of the month, judged competitions the second, and in-depth subject investigations the third.
Our thought was to present speakers on the year's competition topics – nature, low light, Washington DC, architecture, and monochrome – a month or more in advance of the event. This would allow members time to apply what they learn in preparing for the subject competitions. We will also hear from speakers on other subjects such as travel and turning a photo into art.
Our upcoming judges have seen our website and know what to expect: some of the best images they have ever seen from a camera club. They are ready to share their expertise on the competition subjects they will be critiquing.
We are all very excited about seeing each other again and catching up on our summer adventures. If your summer was exciting, this season's speakers and judges will keep that excitement going.
– Renee Schaefer
Program Chair

---
IRENE HINKE-SACILOTTO

TO BE OUR SEPTEMBER SPEAKER
The 2017-2018 SSCC season opens on September 7 with guest speaker Irene Hinke-Sacilotto presenting "A Visual Journey into Brazil's Pantanal".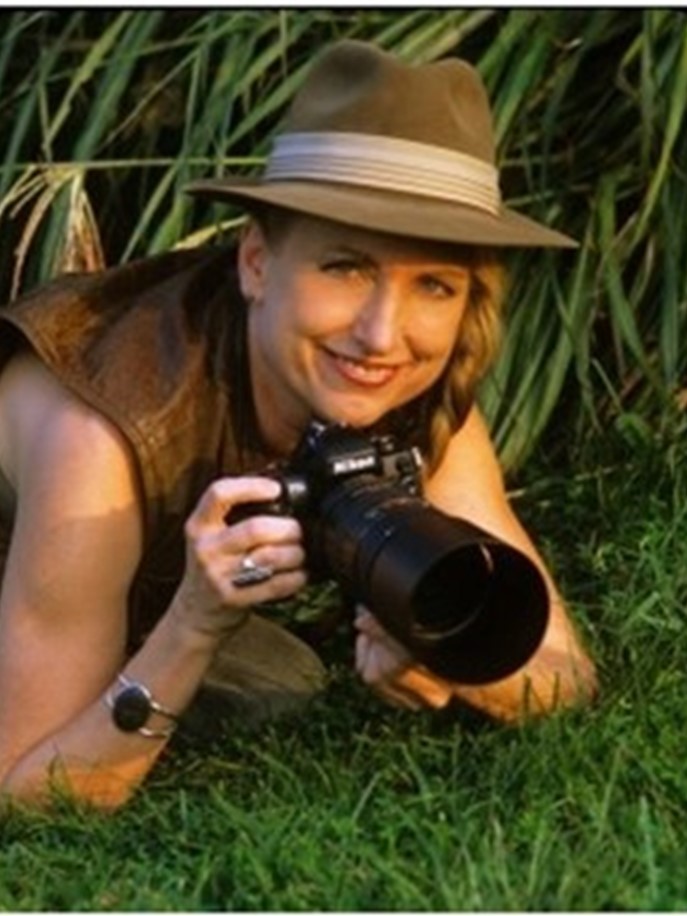 The Pantanal is the world's largest seasonally flooded inland tropical wetland. (read more)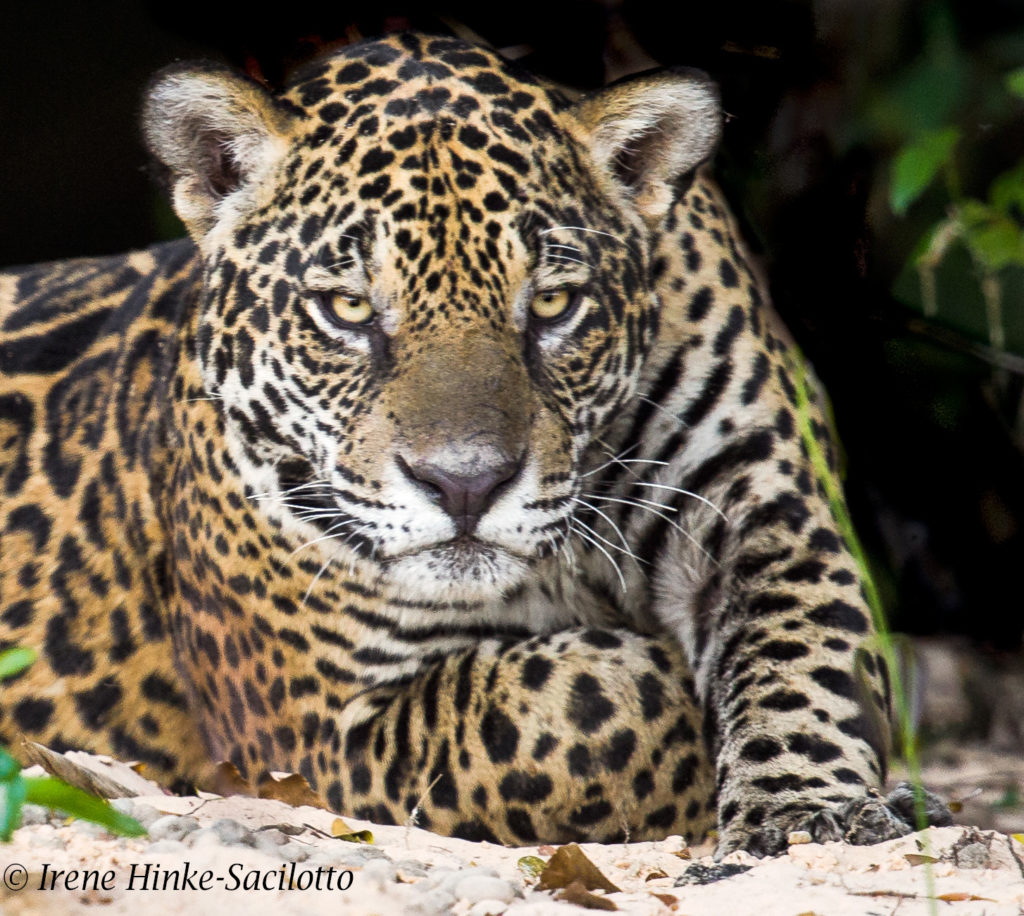 ---
COMPETITION COLUMN
Hi to all SSCC members. I'm very excited about the upcoming Competitions season. The competitions, held the second Thursday of each month, provide a great opportunity to share your images with fellow members and have them critiqued by professional photographers. Though their judgments about the images and their selection of winning photos are necessarily subjective, the judges invariably offer helpful insights and suggestions about the entered images, whether they're yours or those of another member. In my 2+ years as a SSCC member, I have yet to leave a competition without having picked up something useful that I can incorporate into my photography.
For the new Competitions season, we have what I believe will be a fun, stimulating and diverse array of competition topics. Our repeating mainstays – Open, Nature and Monochrome, will be joined by three new topics – Architectural Photography, Low Light Photography and Anything Washington. Please refer to the Members Handbook and/or the Cable Release for the definition of each topic.
Here's the schedule for the season:
September – Open
October – Nature Photography
November – Open
December – Low Light Photography
January – Open
February – Anything Washington DC
March – Open
April – Architecture Photography
May – Monochrome Photography
June – End of Year Competition (special rules apply)
As indicated, the topic for the season's first competition on September 14th is Open, which gives you full freedom to enter images on any topic (or no topic) that you choose. The only requirement is that original images must be created by a light sensitive device, like a camera or scanner. Any subsequent alterations or manipulations of the images are permissible, so have at it.
Please be mindful that electronic submissions for projected images must be received no later than 11:59 pm, September 7th. The images should be emailed to: SSCCphotography@yahoo.com. (One important detail – In order to participate in the September competition, you must pay the club's annual dues before the start of the competition.)
To learn the nitty gritty about the competitions, please refer to the Competition Rules and the Members Handbook, both of which are accessible from the SSCC website. Of course, if you have any questions about the competitions, please feel free to contact me at competition@ssccphotography.org
Finally, our monthly competitions are meant to be engaging, interactive member events, rather than dry, impersonal contests. As such, we heartily encourage all members who submit photo entries, whether print or electronic, to be present at the competitions. I say this for several reasons.
First, the critiques the judges offer of the photo entries can be valuable for the creators of the images. After all, the SSCC enlists our judges not only to have them select their favorite images for ribbons but, as importantly, to offer their professional photographic expertise and insights as they evaluate the images.
Second, audience members really appreciate hearing from ribbon winners a little of the contextual history of their images. Knowing where an image was made or how it was processed can be informative and often entertaining.
And Third, being able to personally congratulate award winners makes for a more vibrant, fun experience for the audience. If a ribbon winner is absent when his or her name is called, the enthusiasm the audience wants to convey to the winner is unavoidably diminished. So, for all these reasons; if you plan to enter an image in a competition this season, please try your best to attend the event. It really helps strengthen the ties that bind us together as the SSCC.
As always, if you have any questions about the competitions, please feel free to contact Larry Gold at competition@ssccphotography.org.
---
STEVE GOTTLIEB IS OUR SEPTEMBER OPEN JUDGE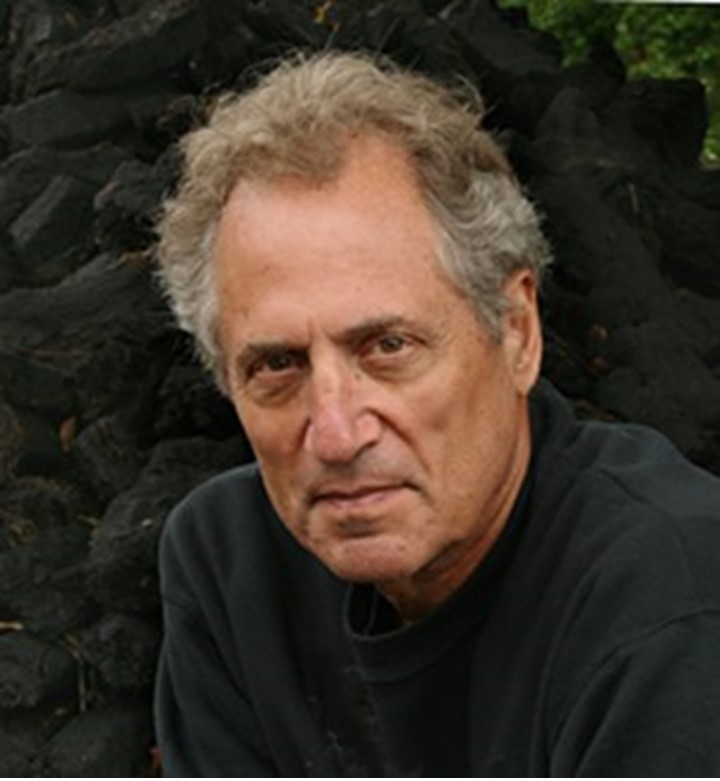 Steve Gottlieb is the photographer and author of multiple widely acclaimed books. Literally thousands of his photographs from his books and commercial and editorial assignments have been published worldwide. (read more)
---
A CLOSER FOCUS MEETING (THURSDAY, SEPTEMBER 28)
You might have noticed this odd new name for a meeting, and why is it on the fourth Thursday of the month, normally reserved for a Board meeting?
The Board decided that our third meeting of the month, previously known as Seminar Night, did not have a name that captured the range of activities we enjoy in that meeting. We decided that a new name, A Closer Focus, would be better – indicating that this meeting would cover photographic topics in some depth while being open as to the type of activity. This evening continues to include education, hands-on workshops, and open forum discussions, how-to presentations, book reviews, video presentations, and more.
Normally, this meeting is on the third Thursday of the month, but Thursday, September 21, lands on Rosh Hashana. We are postponing A Closer Focus one week for just this month to occur on September 28, and rescheduling our Board meeting. Our closer focus will be on the following subjects this month: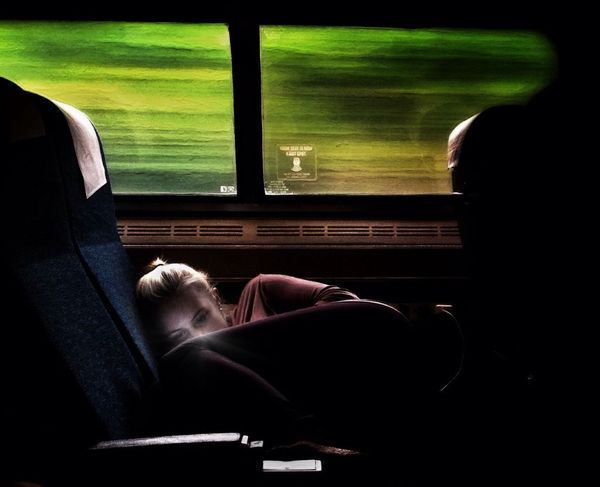 Worldwide almost 5 billion people use smartphones among a population close to 7.5 billion. Conservative estimates are that about 1.1 trillion photos will be taken in 2017 with those mobile phones. Last year 98.4% of consumer cameras sold were built in to a mobile phone, the rest of the sales were compacts, mirrorless and DSLR cameras. Because of mobile device cameras photography and picture taking are more popular than ever before in history.
Why all the excitement and move towards mobile? That's the question we'll attempt to answer during Closer Focus night. We'll discuss motivations and rewards of taking pictures with a mobile phone, favorite camera and editing apps and ways to get better with your mobile photography.
We have a project for this meeting as well. "Seeing" will be the theme for the first few projects of the year. For the A Closer Focus meeting in September we will make the photos to build a single 180 degrees panoramic image, and discuss how to set up to accomplish a panorama, and how to execute the final product.
Please bring your camera, a tripod, and a "medium" focal length lens or medium zoom. You don't want to use a wide angle or long telephoto lens for this project. In October you will bring the photos in, and show them all stitched together as a single panoramic image.
As a preview, the next project, in November, will be to take pictures on your stomach and bring about 6 different images.

In addition we will have the usual open discussion of book reports, gallery reviews, equipment and software discussions, or any photo related topic on your mind.
---
SEPTEMBER 4 FIELD TRIP TO THE MARYLAND RENAISSANCE FESTIVAL
On Labor Day, Monday, September 4, we will go to the Maryland Renaissance Festival. You will have an opportunity to shoot hundreds of people in weird medieval costumes, all of whom love to have their pictures taken; jousting, archery, jugglers, street entertainment, Shakespeare type stage productions, and general bacchanalia. (read more)
SEPTEMBER 23 FIELD TRIP TO HUNTLEY MEADOWS PARK
On Saturday, September 23, we will go to Huntley Meadows Park. Nestled in Fairfax County's Hybla Valley, Huntley Meadows Park is a rich, natural and historical island of over 1,500 acres in the suburban sea of Northern Virginia. It harbors a nationally significant historic house, majestic forests, wildflower-speckled meadows and vast wetlands bursting with life. (read more)
---
♦ CLUB NEWS

♦
---
MEMBERSHIP UPDATE
We are very pleased to welcome all of our members back for the 2017/2018 season of the Silver Spring Camera Club! We hope that everyone had a lovely, photo-filled summer. We are all very excited to see your photos, and look forward to your participating in the varied and rich programming that is planned for this season.
We would like to welcome two new members who joined over the summer: Michelle Weakley and Lwenyi Nkonko. We look forward to meeting and getting to know both Michelle and Lwenyi in person, and to viewing their photos!
We would also like to thank all of the members who have rejoined for the upcoming season. For those of you who have not renewed your membership, Sue Green and I (Wendy Kates) will bring extra membership forms to our meetings in September and October to make it a little easier for you to renew. We would appreciate it if everyone completed a membership form to ensure that we have the most up-to-date contact information for you. Also, please be sure to include your interests in serving on committees, and any new ideas for programming that you might have.
We hope to see all of you in September!
---
END OF YEAR CELEBRATION – JUNE 8, 2017
The End of Year Celebration on June 8 was a great success! We had a potluck dinner at our regular meeting location in Fellowship Hall, mingled, and then handed out awards to recognize the year's outstanding photographers. Many attendees won terrific raffle prizes! The relaxed atmosphere and easy circulation through the large space allowed members to socialize. Here are a number of photos from our celebration, thanks to Andrew Rein and Sue Green:
See the awards winners and their winning photographs in the Competition section, below!
---
BOARD MEETINGS
Since our last Cable Release covered the March meeting, the SSCC Board met on April 27 and May 25, 2017. Read about each of these in the following links:
---
EXECUTIVE COUNCIL ELECTIONS RESULTS
We voted to fill the open Executive Council positions on May 11. These are your selected Exec's:
President: Catherine Honigsberg
Vice President: Tanya Riseman
Secretary: Phil Boyer
Treasurer: Bruce Schaefer
Directors (2): Bob Catlett and Michael Koren
A big thank you to the officers and committee chairs who work to provide you the best club that they can!
---
MAY 6 FIELD TRIP TO THE MARYLAND SHEEP AND WOOL FESTIVAL
On May 6, we had a field trip to the Maryland Sheep and Wool Festival. It was threatening rain, so perhaps that was the reason why not that many people made the trip. Fortunately, drizzle only started at the end and the clouds made for a nice soft, diffuse light. (Guess you should have come after all!) There were lots of different kinds of sheep in the sheds and the sheep herding provided some action. There was lots of knitting wool and raw wool to buy as well as products made from sheep products, like soap.
---
♦ FEATURES

♦
---
PHOTOGRAPHIC SOCIETY OF AMERICA (PSA) ANNUAL CONFERENCE
PSA's Annual Conference will take place between October 8-14, 2017 in Pittsburgh, PA, right next door! It includes tours, presentations, demonstrations, photo shoots, and more. https://psa-photo.org/index.php?2017-psa-conference
---
SEVENTH ANNUAL JOSEPH MILLER ABSTRACT PHOTOGRAPHY EXHIBIT
The month of May was again the setting for the 7th Annual Joseph Miller Abstract Photography Exhibit. With 91 photographers submitting 391 images the competition was fierce. Joseph Miller, mentor and juror, selected 125 images for the exhibit, however only 121 were on display. Many photographers in the exhibit had work in previous exhibits as well.
SSCC was privileged to have two of the Special Merit Award Winners from amongst its membership (David Terao – Throne of Light, and Kate Woodward – Rhythm in Blue and Black), and three more members selected for the exhibit (Beth Koller, Nick Williams, and Elise Shurie)!
Here are the entries from our members:
See the stunning collection of all 121 displayed entrees here:
http://nvacc.org/home/7th-annual-joseph-miller-abstract-photography-exhibit/
---
♦

MEMBER ARTICLES

♦
---
KERNELS OF KOREN

I will be leading a photowalk in Baltimore's Federal Hill neighborhood on October 7th for the Scott Kelby Worldwide Photowalk. We'll start the walk in beautiful Federal Hill Park as it overlooks Baltimore's Harbor. From there we'll meander the streets of the Federal Hill neighborhood. Photographic opportunities abound with historic architecture, street scenes, people and urban nature.
Space is limited to 50 participants so sign up soon! (read more)
---
WHAT WE DID LAST SUMMER – BY BRUCE SCHAEFER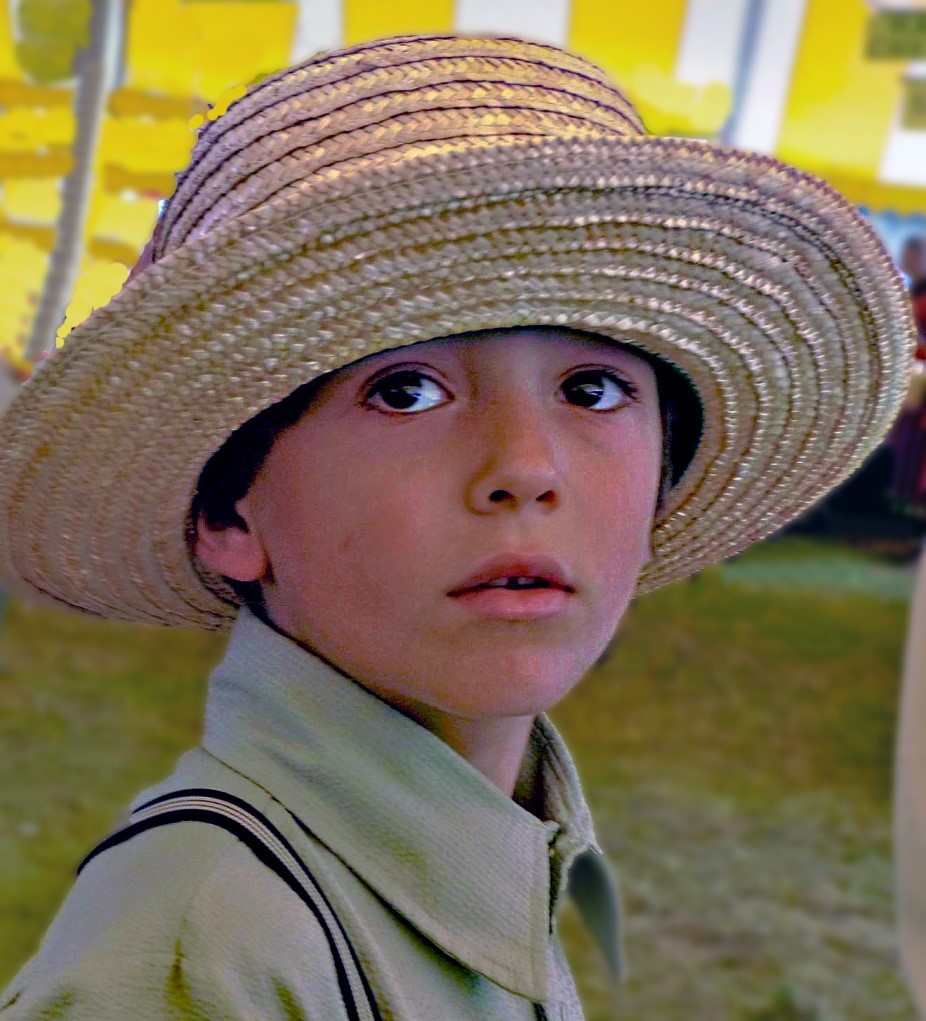 What we did last summer was go up to Pennsylvania over the 4th of July to take pictures of the Amish. On one hand, the Amish are some of the most photogenic people on Earth. In their straw hats and bonnets, pants held by suspenders, long dresses set off by aprons, riding horse buggies and scooters, they cry out with biblical purity and innocence. (read more)
---
A CRUISE TO CHINA, KOREA, AND JAPAN – BY LYNN KANOWITH
This spring my wife and I were on a cruise to China, Korea and Japan which allowed us to spend three days in Korea and 15 days in Japan. (read more)
---
TEXTURED FLOWERS FROM A MARYLAND FARM – BY MY PHUONG NGUYEN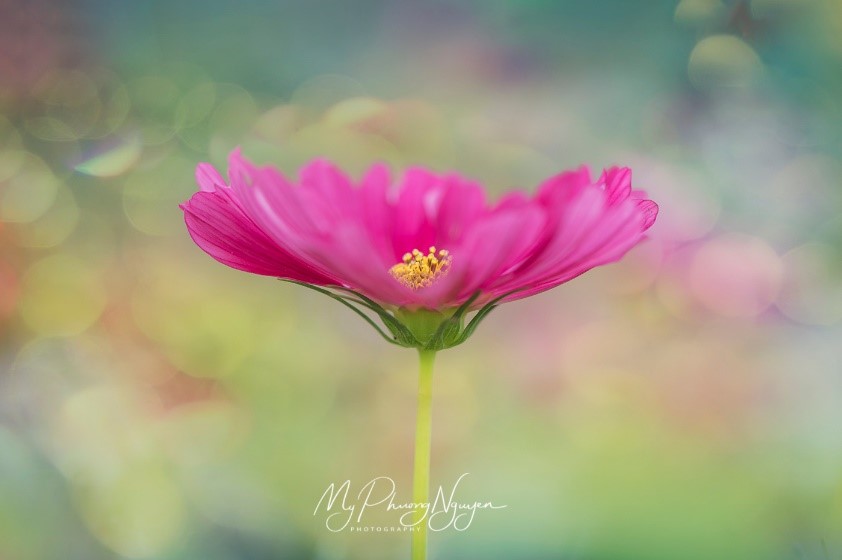 A small farm that I know in Maryland grows many flowers and fruits.
While in the flower section I took many pictures of Cosmos flowers. I show in the following photos the beautiful textures that can be added with Photoshop. (read more)
---
TWO

TOTAL ECLIPSE EXPERIENCES
Several SSCC members travelled to see the total solar eclipse that occurred on August 21. The states visited included South Carolina, Tennessee, and Nebraska – and perhaps even more. Two members provide articles on their approaches, the highs and the lows, plus photographs.
1. TOTAL ECLIPSE VIEWING AND PHOTOGRAPHY – BY TANYA RISEMAN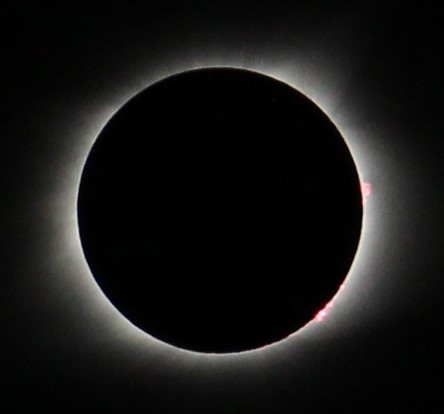 Tanya Riseman and her family travelled to the Nashville, Tennessee area to view and photograph the total eclipse. Tanya experimented with multiple creative techniques with some mixed, but ultimately successful, results! You'll see all of it right here. (read more)
2. MY TOTAL (ECLIPSE) EXPERIENCE – BY DENNIS FREEMAN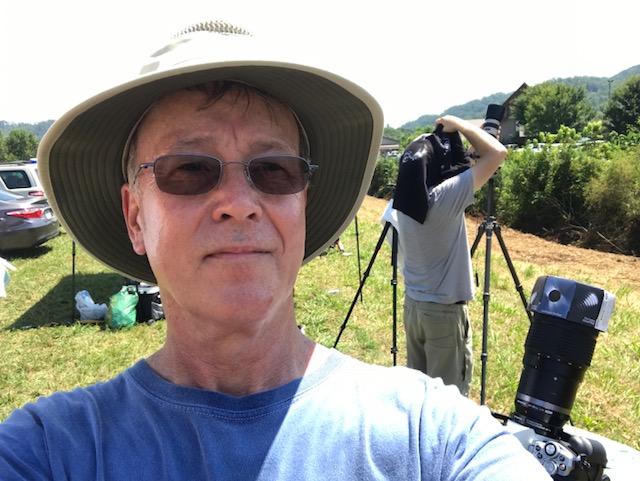 At the last moment I settled on Knoxville, Tennessee as my launch point for seeing the total solar eclipse. What follows is my tragi-heroic story on how I scored a venue, fixed multiple crises with my gear, and came home with some keepers! (read more)
---
♦

COMPETITION WINNERS

♦
---
COMPETITION: MAY 11, 2017 – MONOCHROME PHOTOGRAPHY
May's competition was for the Monochrome Photography topic. Alex Keto was our judge that evening.
There are four main categories: Novice Prints, Novice Projected (i.e. digital images), Advanced Prints, and Advanced Projected. Awards were given for first, second and third place. The number of honorable mentions depended on the total number of entries in the category.
ADVANCED PRINTS
1st Place: Larry Gold – A Cold Walk
2nd Place: Robert Peters – Sunrise at Haleakala
3rd place: Bob Greenberg – Foggy Harbor
Honorable Mention: Sheryl Adams – Joey Rocks
Honorable Mention: Beth Koller – Ethereal Globe
NOVICE PRINTS
1st place: Kate Woodward – Upside Down Reflection
2nd place: Kate Woodward – Pittsburgh Windows
3rd place: Harold Scott – Mr. Softie Ruins Dinner
Novice Print ~ Kate Woodward ~ Upside Down Reflection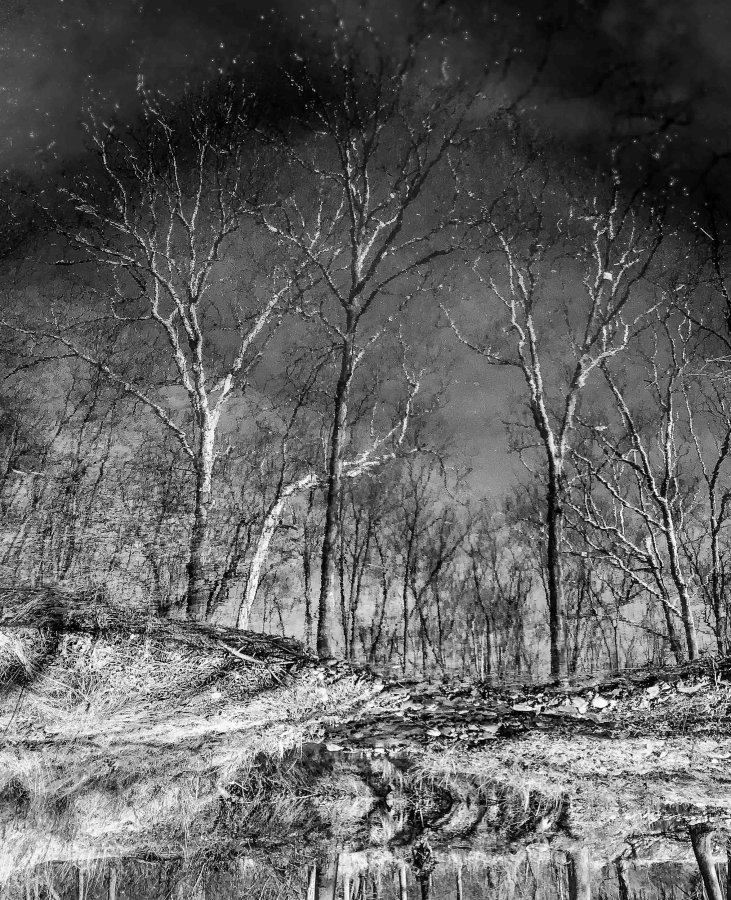 ADVANCED PROJECTED
1st place: David Terao – Ballerina
2nd place: John L Telford – Cliff House
3rd place: Beth Koller – Blossom
Honorable Mention: Beth Koller – Fork & Spoon
Honorable Mention: Gene Luttenberg – Lotus in the Morning
Advanced Projected ~ David Terao ~ Ballerina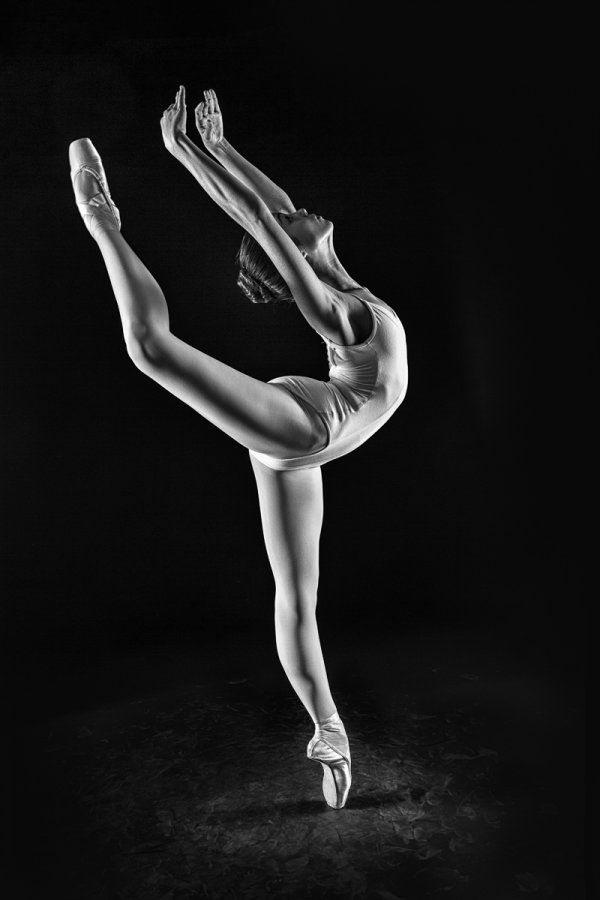 NOVICE PROJECTED
1st place: Kay Carkhuff – Apple Cascade
2nd place: Sherm Edwards – From Steptoe Butte
3rd place: Sherm Edwards – August Morning in the Palouse
Honorable Mention: Laurel Sharf – Square Hole Kinda Stuck Kids
Honorable Mention: Barbara Karpas – Pristine Beauty
Novice Projected ~ Kay Carkhuff ~ Apple Cascade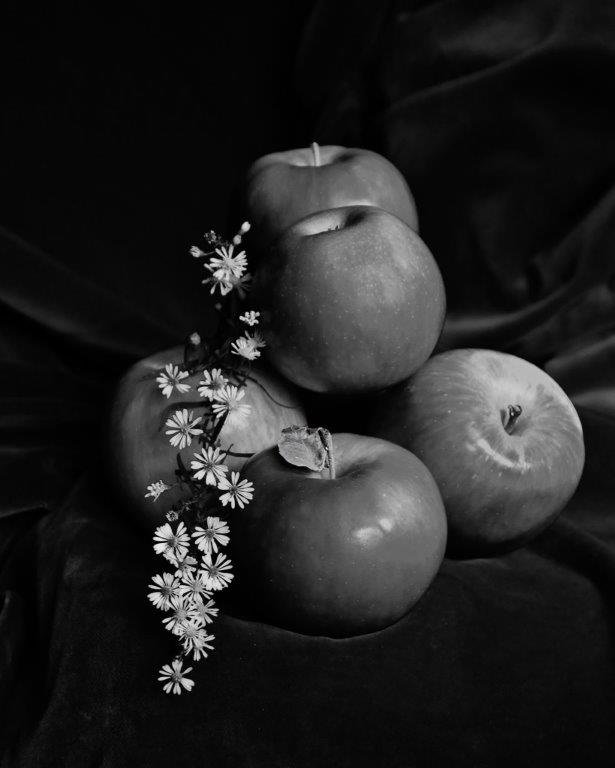 Picture 1 of 5
"Apple Cascade" was my first attempt with using Photo Shop. After Coco spoke on how to compose a good Still Life, I took A LOT of apple pictures. Originally this one had too much glare on the top apple, so, for the first time,  I successfully (and easily) removed the detracting glare using Photo Shop. I liked the B/W effect and I think it will look nice as a small canvas print.
---
END OF THE YEAR COMPETITION FOR 2016-2017: JUNE 8, 2016
YEAR-END COMPETITION WINNERS
NOVICE PRINTS
HM – Oliver (Pete) Morton Reflecting
HM – Oliver (Pete) Morton Baltimore Graffiti
3rd – Oliver (Pete) Morton Butterfly
2nd – Oliver (Pete) Morton Debut
1st – Oliver (Pete) Morton Unconditional Love
ADVANCED PRINTS
HM – Sheryl Adams Hands On
HM – Elizabeth Koller Yoo Hoo – I See You
HM – David Blass Vintage Aircraft
3rd – Larry Gold Houses on Hill
2nd – David Terao Golden Birdwing Butterfly
1st – David Terao Fluid Dynamics
NOVICE PROJECTED
HM – Sue Green Group Hug
HM – Kay Carkhuff Apple Cascade
HM – Tanya Riseman Winter
HM – Laurel Sharf Through the Looking Glass
3rd – Elise Shurie Neatly Shelved
2nd – Kate Woodward Window Reflection, Germany
1st – Wendy Kates Frosted Leaves
ADVANCED PROJECTED
HM – Elizabeth Koller Blossom
HM – David Terao Still Life with Dutch Tulips
HM – David Terao Ballerina
HM – David Blass The Long Slide
3rd – David Terao Gorilla
2nd – Larry Gold Bubbling Fruit
1st – David Terao Leaf Droplet
LEN TUCHIN AWARD: BEST IN YEAR-END COMPETITION
Oliver (Pete) Morton for Unconditional Love
JOYCE BAYLEY AWARD: (BEST IN SHOW, NATURE
My Phuong Nguyen for Hold On
This award is given in October at the end of our annual nature competition. The winner is chosen by the judge among the four 1st place winners. The nature awards plaque is hanging in the back of the room with all of the winners from 1998 listed.
PHOTOGRAPHERS OF THE YEAR
Certificates for the most points earned in a given category this club year
NOVICE PROJECTED: Kate Woodward
ADVANCED PROJECTED: David Terao
NOVICE PRINTS: Oliver (Pete) Morton
ADVANCED PRINTS: David Terao
PHOTOGRAPHIC EXCELLENCE AWARDS (STAR AWARDS)
These awards are based on the total number of points a member accumulates. For each 50 points earned, you are awarded one star through 250 points.
FIRST STAR AWARD: Tanya Riseman
FIRST STAR AWARD: Kate Woodward
FIRST STAR AWARD: Karen Carkhuff
FOURTH STAR AWARD: Coriolana Simon
FOURTH STAR AWARD: John L Telford
FIFTH STAR AWARD: Charles Bowers
SERVICE AWARD 2016 – 2017
Renee Schaefer
The following gallery is the set of projected and print winners from the End of the Year Competition.

---
CLASSES AND WORKSHOPS
The following describes sample photography courses and workshops from a variety of providers. There are three categories of classes:
Classes and workshops in the DC area
Online courses
Multi-day photography trips to places within and beyond the United States.
Some of these begin or require registration early in September. Please provide reviews of courses that you have taken! (read more)
In addition, there is a 2-session workshop on camera club judging being offered at the Joseph Miller Center for the Photographic Arts:
4811 Catharpin Road, Gainesville, Va, 20155
Session 1: Sat. Oct. 14, 1:00 – 5:00 p.m.
Session 2: Sat. Nov. 11, 1:00 – 5:00 p.m.
Workshop-on-Camera-Club-Judging
---
CALLS FOR ENTRY
The following offers a number of competitions for your consideration this month. Some of these sources having standing calls for entry, and others are one-time calls. Some offer cash and prizes, and others don't.
See the full Calls for Entry article here. (read more)
---
EXHIBITS AND EVENTS
FotoDC, Nov. 11 – 19
Whether through fine art photography, photojournalism, or the work of emerging artists, FotoDC provides a dynamic, evocative, engaging experience for photographers, cultural institutions, galleries, curators, schools, area residents, and tens of thousands of viewers.
The weeklong photography festival initially attracted professional and amateur photographers, photography lovers, and partners such as National Geographic, the Corcoran Gallery of Art, The Smithsonian Institution, and various local art galleries. FotoDC since launched new programs to provide greater exposure for all photographers, new venues for exhibitions and new programs for students and youth. The annual Festival in November continues to be FotoDC's largest project with over 40,000 attendees each year.
http://www.fotodc.org/fotoweekdc2017/
2017 NATURE VISIONS EXPO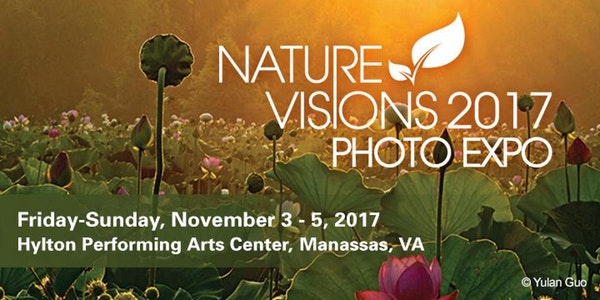 A local fav, the 2017 Nature Visions Photo Expo is scheduled for November 3-5 at the Hylton Center for the Performing Arts on the George Mason University—Manassas campus.
See their most recent newsletter here: Nature-Visions-Newsletter-2017
Online ticket sales are going on now. Sign up now for your preferred sessions! http://www.naturevisions.org
MONTGOMERY COLLEGE MEDIA ARTS GALLERY
August 28 – October 20
Ronald Beverly: New Kid on the Block
A retrospective exhibition of the past thirty years as the photographer transitioned from Darkroom/Film photography to Digital media.
October 30 – December 15
Joshua Dunn: E Pluribus Unum
Monumental institutional and government buildings are created as a reflection of society's values and through an architect's vision and the labor of craftsmen. E Pluribus Unum, meaning "out of many, one," reflects not only the labor and skill of those who designed and built them, but Joshua's own process of photographing and constructing these images. Each photograph is assembled from between 700 – 2400 individual images to "build" the final photographs. In many ways, the artist's process is a reflection of the labor, skill, and time required to create the buildings he seeks to capture.
https://cms.montgomerycollege.edu/mediaartsgallery/
PHOTOPLUS EXPO 2017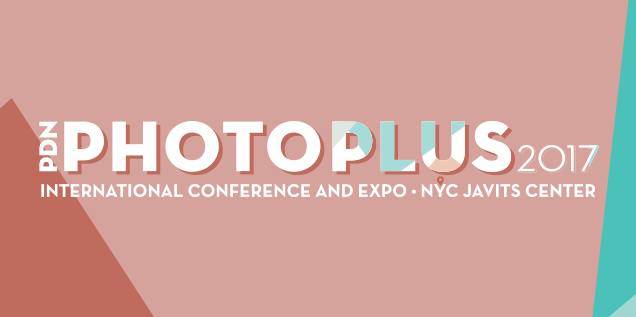 Conference: Oct. 25 – Oct. 28, 2017
Expo: Oct. 26 – Oct. 28, 2017
Javits Convention Center, New York City
NATIONAL GEOGRAPHIC
The National Geographic frequently has events related to photography. Check these out here: National Geographic Photography Events
THE NATIONAL GALLERY OF ART
Check out the current and upcoming exhibitions here:
https://www.nga.gov/content/ngaweb/exhibitions/current.html
https://www.nga.gov/content/ngaweb/exhibitions/upcoming.html
HIRSHHORN
Find current and upcoming exhibitions for the Hirshhorn
https://hirshhorn.si.edu/collection/current-exhibitions/
https://hirshhorn.si.edu/collection/current-exhibitions/#collection=upcoming-exhibitions
WASHINGTON POST
Here is a link to the online Washington Post's lists of D.C., Maryland, and Virginia photography-related exhibits and museums. I have found that the various photography-related exhibits appear in different parts of the online paper, making a simple search or link unreliable.
You can search within
---
DEEP DIVE INTO THE ARCHIVES
This month, we provide the September, 1982 issue of the Cable Release for a view of our club's past.
35

YEARS AGO

And what else was going on in 1982?
Michael Jackson's "Thriller" sells 20 million albums to become the largest selling record ever
Argentina invades the Falklands (UK); Argentina has to withdraw its troops after two months
Tylenol Scare
Prince William is born to Charles and Di
AT&T breaks up into 22 distinct regional phone companies
The Vietnam Memorial is erected in Washington D.C.
The first artificial heart transplant takes place, the receipent lives 112 days
---
Take a look at what our sister camera club, the NIH Camera Club, has going on. Here is a link to their site. There you can find their newsletter, the Cameraderie.

---
---