Newsletter of the Silver Spring Camera Club, SSCCPhotography.org
Winner of the 2008, 2011, and 2012 PSA Henricks Award for best newsletter!
---
Key Events
Feb 1 – Speakers night, yes-two of them! (7:30 p.m.)
Feb 8 – Competition night: Anything Washington D.C. (7:30 p.m.)
Feb 15 – A Closer Focus meeting (7:30 p.m.)
Feb 17 – Field Trip: National Shrine & Franciscan Monastery (9 a.m.)
Feb 22 – Board Meeting (7:30 p.m.)
---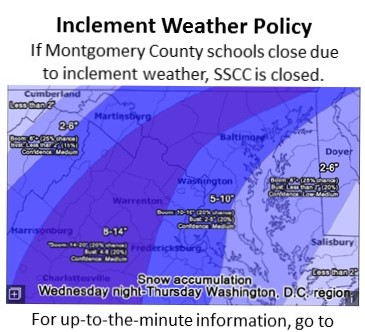 ---
"I always thought of photography as a naughty thing to do – that was one of my favourite things about it, and when I first did it, I felt very perverse."
– Diane Arbus
---
TWO

SPEAKERS ON FEBRUARY 1ST!
We will have two co-speakers on February 1. Are you interested in Washington D.C., whether day or night? Are you interested in night photography, in D.C. or elsewhere? We've got you covered!
Tom Wachs will be a co-Speaker on February 1, with the subject "Washington D.C. and More". Please join us as Tom presents his images of Washington, D.C. This is a great opportunity to learn more about photographing many of the sites in our own area. (read more)
Gary Silverstein will be our other co-Speaker, with the subject "Night Photography". During his presentation, Gary will discuss techniques for taking night photos, and explain why you should leave the comfort of your warm, dry home to take pictures on the next rainy/snowy/foggy evening. (read more)
Gary's handouts from the presentation may be found here: Night-Show-Handouts-Gary-Silverstein.pdf
---
COMPETITION COLUMN
The competition on February 8 will be on the Anything Washington D.C. theme:
The term "Anything Washington D.C." encompasses images whose subjects are located within the geographic confines of the District of Columbia. Although an image need not contain an obvious or explicit reference to a commonly recognizable subject that is unique to Washington (such as an architectural landmark or political event); the image should endeavor to inform the viewer, either directly or contextually, about some part or aspect of Washington that contributes to making Washington, Washington.
Please be mindful that electronic submissions for projected images must be received no later than 11:59 p.m. on February 1st, Speaker Night. The images should be emailed to: SSCCphotography@yahoo.com. (One important detail – In order to participate in the competition, you must have paid the club's annual dues before the competition.)
To learn the nitty gritty about the competitions, and for the definition of each of the competition topics, please refer to the Member Handbook and/or 2017-18 Competition Topic Definitions (both of which are accessible from the SSCC website):
February – Anything Washington D.C.
March – Open
April – Architecture Photography
May – Monochrome Photography
June – End of Year Competition (special rules apply)
As always, if you have any questions about the competitions, please feel free to contact Larry Gold at competition@ssccphotography.org.
---
JEAN-PIERRE PLÉ TO BE OUR FEBRUARY 8 JUDGE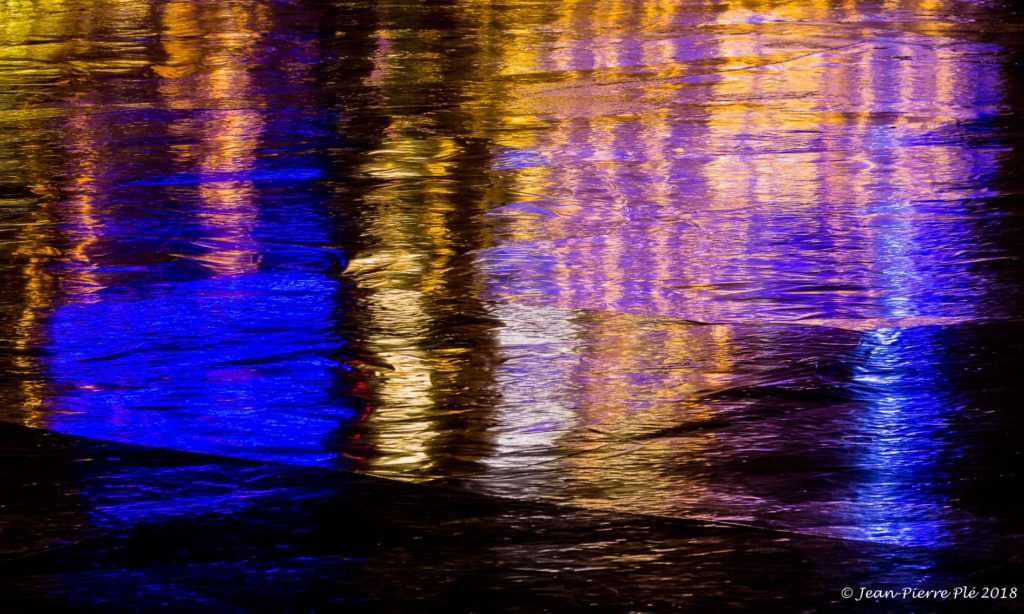 Jean-Pierre's interest in photography goes back to the 1970's in conjunction with his desire to record a solo crossing of the United States by bicycle. Influenced by Galen Rowell, his camera has since been an essential part of his gear whether sea kayaking in Alaska, trekking in Patagonia, or backpacking in West Virginia's Monongahela National Forest. (read more)
Jean-Pierre provided us with a reference list of photography books, and other creativity-related resources that he values: JP-Photo-Resources.pdf
---
A CLOSER FOCUS (FEBRUARY 15)
For the February 15 meeting please bring in a couple of your images from your work – a recent field trip or any picture you are proud of or have questions about. We will spend about half an hour sharing.
Half an hour will be an open forum discussing issues at hand. There will also be half an hour for 10 minute presentations by members. This is always a great evening of sharing and learning. What topics would you like to explore? Topics are very wide ranging, such as photo book reviews, an aspect of your own photography that you'd like to share, reviews or discussion of gallery shows, photo gear, software, etc. Or bring a gadget to share.
For February we will include the following:
Last month David Terao covered a remarkable new feature in Lightroom Classic called "Auto". It is in the Develop module, under the block that begins with Exposure. In February we will continue showing the features of the new Photoshop CC 2018 and Lightroom Classic.
Tanya Riseman will complete her presentation of the Three Legs of Exposure. She presented ISO in December, and Aperture in January (with a memorable use of spaghetti to illustrate light rays). She will cover Shutter Speed this month. Links to her two previous presentations follow:
Future topics might include: compositional strength, HDR, abstract images, or anything else photographic you want to bring to the table. This is an opportunity for you to provide input to the SSCC experience.
If you would like to be on the agenda, please email me at:
davidwesleypowell@gmail.com
---
FEBRUARY 17 FIELD TRIP: BASILICA OF THE NATIONAL SHRINE & FRANCISCAN MONASTERY
On Saturday, February 17 join the club for a two-fer!
First we will have a tour of the Basilica of the National Shrine of the Immaculate Conception, located in Washington, D.C. The shrine is the largest Catholic church in the United States and North America, and one of the ten largest churches in the world.
Then we will tour the Franciscan Monastery, a complex in the Brookland neighborhood of Northeast. It includes gardens, replicas of various shrines throughout Israel, a replica of the catacombs in Rome, an archive, a library, as well as bones of Saint Benignus.
---
♦ CLUB NEWS

♦
---
SSCC MEMBER SNAPSHOTS:
Lisa and Marc Auerbach moved to the Washington area recently from Houston, Texas, in order to live closer to their daughter and her family. Both of them kindly described their backgrounds and their interests for our New Member Snapshot column. (read more)
---
BOARD MEETING
---
MARYLAND PHOTOGRAPHY ALLIANCE GALLERY SHOW AT MARYLAND HOUSE OF DELEGATES

After a successful run at the Columbia Art Center, the Maryland Photography Alliance's (MPA) newest gallery show is now open to the public. Of the 72 exhibited photos, 11 are from SSCC members! All photos are excellent, and worth seeing.
Your fellow SSCC members that will have images on display are David Terao, My Phuong Nguyen, Michael Koren, Jim Turner, Michael Tran, Stephanie Banks, Nick Williams, Oliver (Pete) Morton, Sherman Edwards, Sue Green, and Wendy Kates.
The show is located in the lounge area of the State of Maryland House of Delegates building, which is located at 6 Bladen Street, Annapolis, MD 21401.
The gallery show will be on display through March, 2018. The public hours of the Maryland House of Delegates are Monday through Friday, 9:00 a.m. to 5:00 p.m. You will need a photo ID to gain access to the building.

---
PHOTO CHALLENGE: "WORDS AND IMAGES"

In past years, the Cable Release has had the recurring theme "Words and Images", where club members send in a pairing of words and images. The idea is to use the text and the image together to create an artistic composite that is greater than the sum of the parts. Thanks to everyone that contributed to this year's submissions!
---

Odyssey of Light, the most exciting Photography Seminar ever, is coming to Baltimore on Saturday, March 24.
National Geographic legend Bruce Dale and Nikon Ambassador Tamara Lackey are the presenters. Bruce will provide a fascinating presentation of favorite National Geographic photographs, video, and stories behind the lens. Following the free lunch, Tamara will conduct live portrait shooting with a studio, lighting, and volunteer models. She will share tips, techniques, posing, and post-processing expertise.
The public will pay $99, however, because the Silver Spring Camera Club is a member of the Maryland Photography Alliance, your price is only $79.
In addition to great presentations, you will receive a $50 NPL Gift Card and Free Lunch.
For more information and to register go to: https://www.odysseyoflight.org/mpa
There is limited seating, so register today!
---
CALL FOR ENTRY: 8TH ANNUAL JOSEPH MILLER ABSTRACT PHOTOGRAPHY EXHIBIT
The Joseph Miller Center is currently accepting entries for the upcoming Eighth Annual Exhibit. The deadline for submissions is Friday, February 23, 2018.
The Joseph Miller Center for the Photographic Arts is collecting submissions for its eighth annual juried abstract exhibit. All interested photographers are invited to submit entries for this popular spring event between May 5 – May 28, 2018.
SSCC photographers have done well in past Joseph Miller abstract exhibits – see last year's gallery here: 7th-annual-joseph-miller-abstract-photography-exhibit
A detailed prospectus containing all relevant information regarding the
exhibit can be found on the Northern Virginia Alliance of Camera Clubs
nvacc.org/home/abstract-exhibit/
Are you interested, but needing a little guidance or inspiration to get going? See the following article of abstract resources, gathered by Kate Woodward.
---
ABSTRACT PHOTOGRAPHY RESOURCES

Are you interested in abstract photography? Are you new to the topic, or perhaps just in need of some inspiration? SSCC member Kate Woodward was curious about what she could find on the web a few weeks ago. Here is what she came up with. (read more)
For added inspiration and excellent examples, here are SSCC winners' photographs from the 7th Annual Joseph Miller Abstract Photography Exhibit:
---
♦

MEMBER ARTICLES

♦
---
YES, FENCE ART IS ALL AROUND – BY KATE WOODWARD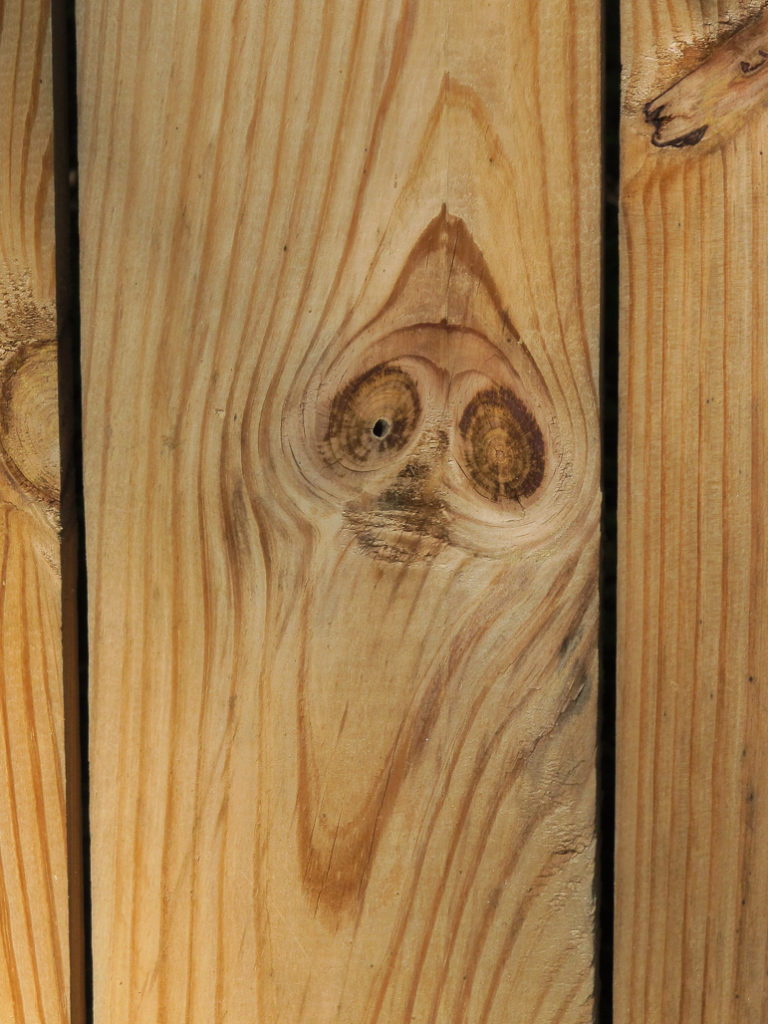 What is Fence Art? … To me, fence art consists of the forms, colors, and textures that naturally appear on the wood from which fences are made… (read more)
---
♦

COMPETITION WINNERS

♦
---
COMPETITION: JANUARY 11, 2018 – OPEN
January's competition was in the Open category. Ellis Rosenberg was our judge that evening. There are four main categories: Novice Prints, Novice Projected (i.e. digital images), Advanced Prints, and Advanced Projected. Awards are given for first, second and third place, and honorable mentions – the number of awards depends on the total number of entries in the category. In January, there were not enough Novice Prints entered, and these were combined with the Advanced Prints entries.
ADVANCED PRINTS
1st Place: Larry Gold – Wet Stones
2nd Place: David Terao – Dead Horse Point Overlook
3rd place: Kate Woodward – Waves in Long Lake
Honorable Mention: David Blass – Peacock Feather
Honorable Mention: Sherm Edwards – Evening Heron
Advanced Print ~ Larry Gold ~ Wet Stones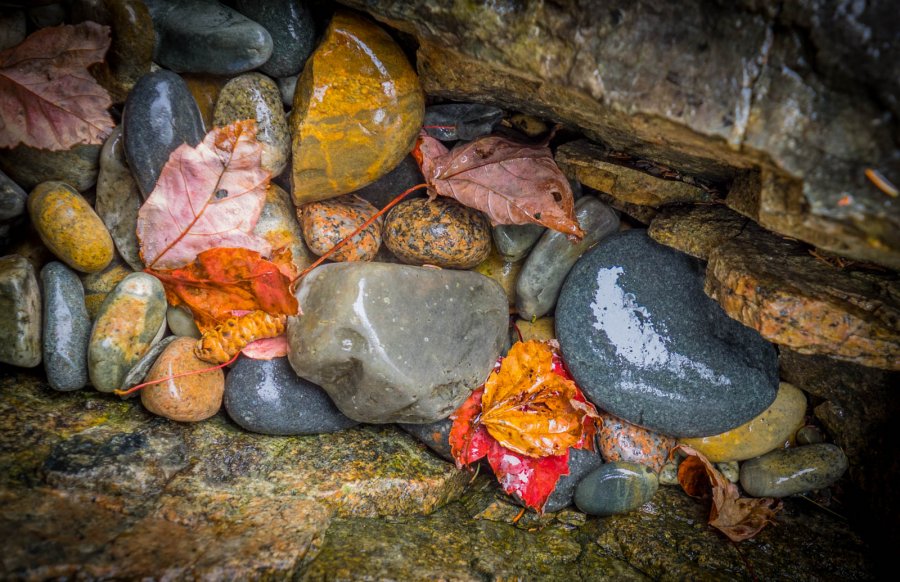 Picture 1 of 4
I had climbed out to a promontory at the side of Little Hunter's Beach in Acadia National Park when it started to rain. I didn't fully appreciate how dry boulders, when they become wet, also become very slippery. In any event, I scrambled/slid/stumbled down the rocks to the stony beach and started toward the stairs leading back to the parking lot. Just before I reached them, I saw a colorful ledge along the shore line. Despite being drenched by the rain and a little shaken by my treacherous retreat, I walked over to the ledge, reached for the camera in my backpack and took this shot. To me, the image illustrates the "just one more" philosophy that a passion for photography encourages.
ADVANCED PROJECTED
1st place: Beth Koller – I'm in Reverse
2nd place: David Terao – Star Trails at the South Window Arch
3rd place: Beth Koller – Moonscape
Honorable Mention: David Terao – Goblin Hole
Advanced Projected ~ Beth Koller ~ I'm in Reverse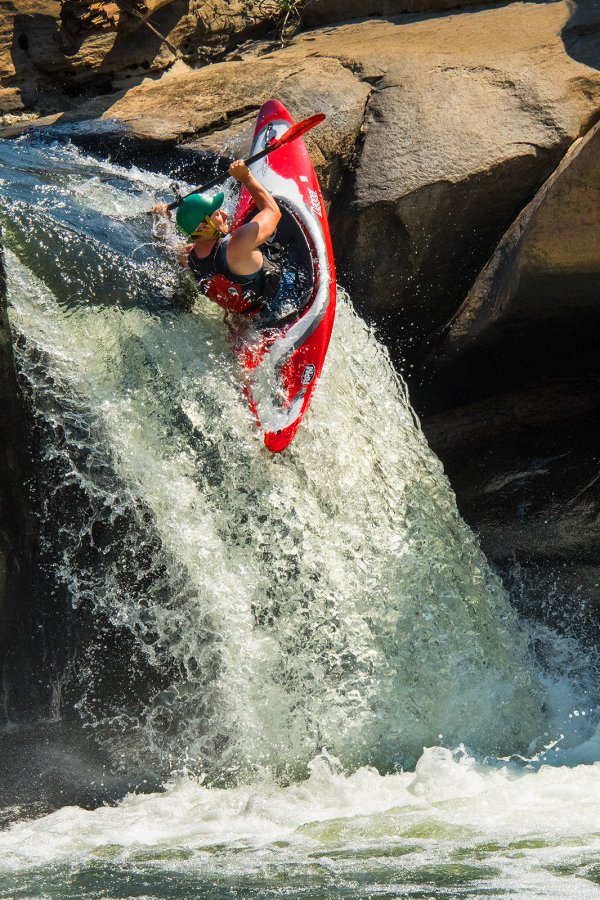 Picture 1 of 4
This image was taken at section of river with falls/rapids above and below this drop and drops adjacent to this drop. This paddler looks to be in a really bad way, but he is actually setting up for a "cartwheel". He will sink his stern and rotate the bow in the air over the flow of the water. It helps to understand the water flow and the particular paddler, but there is always serendipity with room for carnage--Yes, I took that as well.
NOVICE PROJECTED
1st place: Wendy Kates – Eaves and Windows
2nd place: Tanya Riseman – Future Purple Line
3rd place: Wendy Kates – Wistful Sheep
Honorable Mention: James Ragucci – Westminster Light Trails
Honorable Mention: Lisa Auerbach – Egret Family
Novice Projected ~ Wendy Kates ~ Eaves and Windows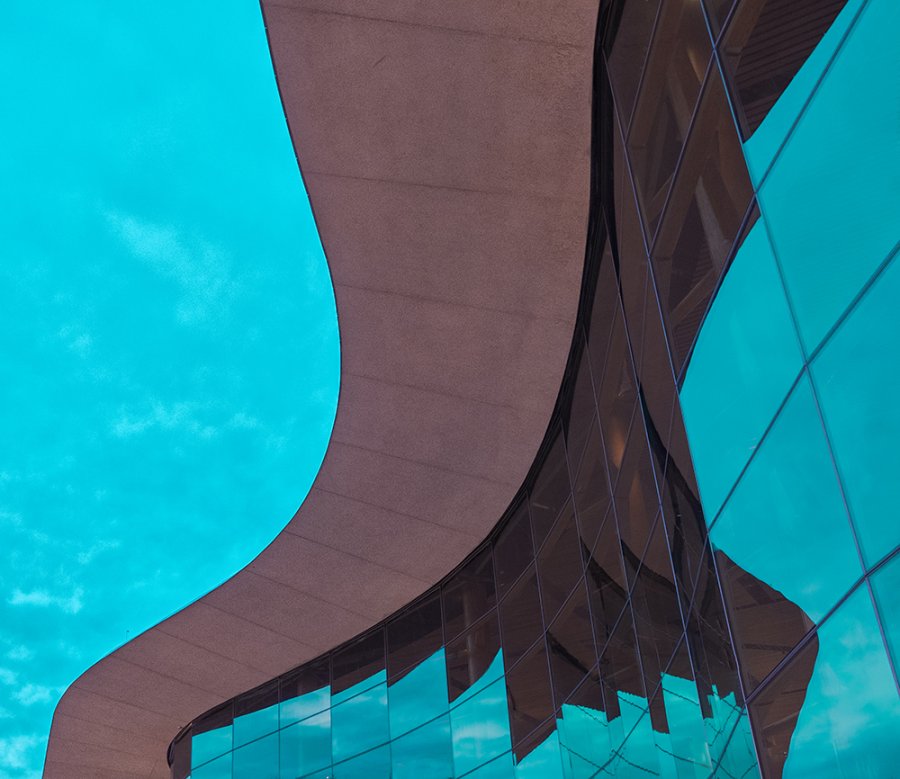 Picture 1 of 5
This is an image of one side of the exterior of Arena Stage, at dusk. I was standing under the eave to achieve this abstract look. I had hoped to photograph the building during the "blue hour", but the clouds prevented the sky from becoming a deep blue color. So, in post processing, I decide to alter the hue of the sky, which I thought would add to the abstractness of the image. Olympus OM-D-EM-1 mirrorless camera, Olympus 12 – 40mm f/2.8 PRO lens, ISO 640, 19mm, f/3.2, 1/20s.
---
CLASSES AND WORKSHOPS
The following describes sample photography courses and workshops from a variety of providers. There are three categories of classes:
Classes and workshops in the D.C. area
Online courses
Multi-day photography trips to places within and beyond the United States.
Some of these begin or require registration early in the month. Please provide reviews of courses that you have taken! (read more)
---
CALLS FOR ENTRY
The following offers a number of competitions for your consideration this month. Some of these sources having standing calls for entry, and others are one-time calls. Some offer cash and prizes, and others don't.
See the full Calls for Entry article here. (read more)
---
EXHIBITS AND EVENTS
ONE OF A KIND – HAND PULLED IMAGE TRANSFERS NATURES PATTERNS
An Exhibit of SSCC Member Charles Bowers Work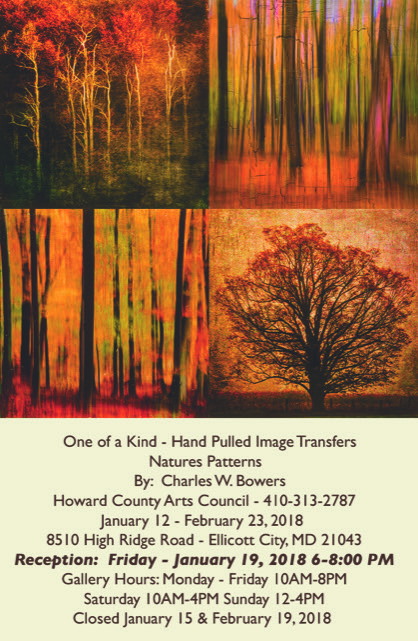 MONTGOMERY COLLEGE MEDIA ARTS GALLERY
January 22 – March 2
John Hoover: Travels in Europe
Another exciting photographic journey as John tours Prague, Vienna and Budapest.
https://cms.montgomerycollege.edu/mediaartsgallery/
NEWSEUM
"The Marines and Tet: The Battle That Changed the Vietnam War" will showcase the work of John Olson, who spent three days with the Marines at the 1968 Battle of Huêˊ, the bloodiest single battle of the Vietnam War. This innovative exhibit will feature 20 large-format photographs. Olson's photographs were featured in Life magazine, and he won the Robert Capa Gold Medal for his work. The exhibit will also include unique artifacts, including Nikon cameras that Olson used in Vietnam. The Marines and Tet
GEORGE WASHINGTON UNIVERSITY MUSEUM AND THE TEXTILE MUSEUM
"For the Record: New Photography and Art Capture Changing Washington" For the Record
November 9 – March 4
MULTIPLE EXPOSURES GALLERY (TORPEDO FACTORY, ALEXANDRIA, VA)
January 2 – February 11: Soomin Ham, New Work Exhibit
February 13 – March 25: E.E. McCollum, EMBRACE
www.multipleexposuresgallery.com/exhibits/
---
The following museums, usually a good source of photography exhibits, are quiet in February. These can be good locations for your own photographs:
NATIONAL GEOGRAPHIC
The National Geographic frequently has events related to photography. Check these out here: National Geographic Photography Events
THE NATIONAL GALLERY OF ART
Check out the current and upcoming exhibitions here:
https://www.nga.gov/content/ngaweb/exhibitions/current.html
https://www.nga.gov/content/ngaweb/exhibitions/upcoming.html
---
WASHINGTON POST
Here is a link to the online Washington Post's lists of D.C., Maryland, and Virginia photography-related exhibits and museums. I have found that the various photography-related exhibits appear in different parts of the online paper, making a simple search or link unreliable. You can search within
---
DEEP DIVE INTO THE ARCHIVES
This month, we provide the February, 1973 issue of the Cable Release for a view of our club's past. The constitution is being challenged!! What did it cost to operate the SSCC in 1973?
45 YEARS AGO