Each month, the Club organizes a field trip to a local venue to shoot together. This is a great opportunity to learn from other members and shake yourself out of a photographic rut. This is a no-pressure opportunity to experiment with your photography and enjoy the company of fellow Club members. When possible, field trips end with a group lunch, so make sure to find out where the group is headed.
Recent field trips have included the Maryland Renaissance Festival, the Rockville Antique and Classic Car Show, Glen Echo Park, the Torpedo Factory Arts Center, Goddard Space Flight Center, the Maryland Sheep and Wool Festival, Patuxent Research Refuge – South Tract, the Carrie Murray Nature Center, and the Baltimore Railroad Museum.
The planned 2017-2018 field trips are highlighted in the 2017/2018 Calendar, below: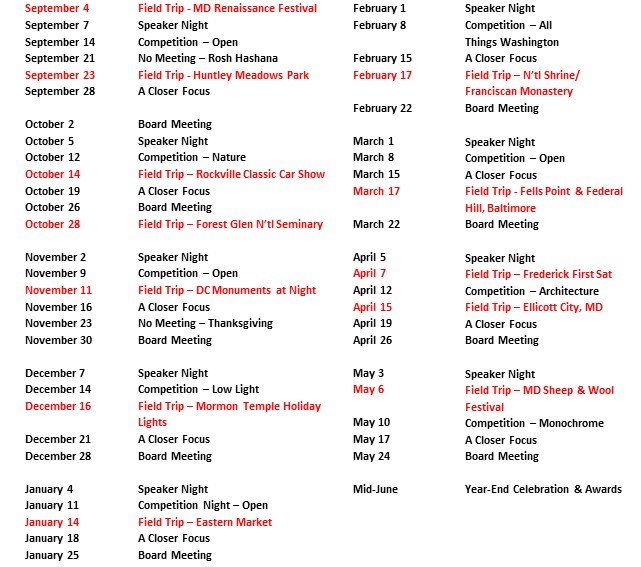 Andrew Rein is the Field Trip Coordinator, but individual Club members organize and lead each trip. We are always looking for volunteers to lead trips, and ideas for fun places to photograph.
Travel arrangements vary, but people wishing to carpool meet (unless otherwise specified) at the parking lot for the Giant Supermarket at 8750 Arliss St., Silver Spring, MD, 20901 (the corner of Flower Ave. and Arliss St.). We meet at the far end of the parking lot nearest the Arliss St. entrance. Map of Carpool Location